I just finished an independently made point and click adventure game called "5 Days A Stranger" and I must say I was rather impressed.
"5 Days a Stranger" takes place in a recently vacated mansion (sort of like Resident Evil or Maniac Mansion). The owner of the house and his wife disappeared mysteriously, and you play as Trilby, a self-described "gentleman thief" who breaks into the mansion in hopes of snatching some loot. Upon entering, he finds himself trapped (sans loot) with 4 other people, and the 5 days of terror begins.
The story is sort of on the theme of Saw II, you have to solve puzzles trying to escape, and figuring out the house's horrible past. It's built like old Lucas Arts games (using a simple SCUMM-like adventure game engine). The puzzles make sense, for the most part, but I did have to glance at the FAQ/Walkthrough a couple of times after dying to figure out what I was doing wrong. Once I read the FAQ/Walkthrough on the game's site, I had to slap my forehead because the solutions made sense, and I was over-analyzing the situation, or I just missed some small detail.
The story is solid, and the characters' dialog is realistic for what you'd find in a horror/thriller movie.
As you can see in the screenshot, the graphics are 2D, but well done. Each room in the mansion is based on that principle, with each room taking up one screen.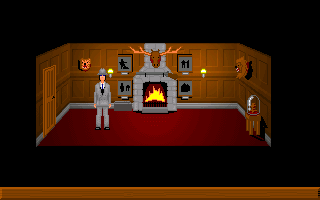 Before playing this, I was warned about the gore level, but it really wasn't bad considering some of the stuff that's out there. But there is some violent scenes, so just be aware.
My one problem was a lack of music. I don't know if I just didn't have my sound settings right, but I couldn't get the music to play. I could hear the footsteps, and random creaking of the house (which are a great atmospheric touch) but overall the game is too... quiet. It would have been cool with spoken dialog, but you get text.
I hear someone is thinking of doing a remake using the Half-Life 2 engine, so I'm going to look forward to seeing that!
There are 3 other sequels (making a total of 4) and I'm definitely going to check those out.
http://www.fullyramblomatic.com/5days/